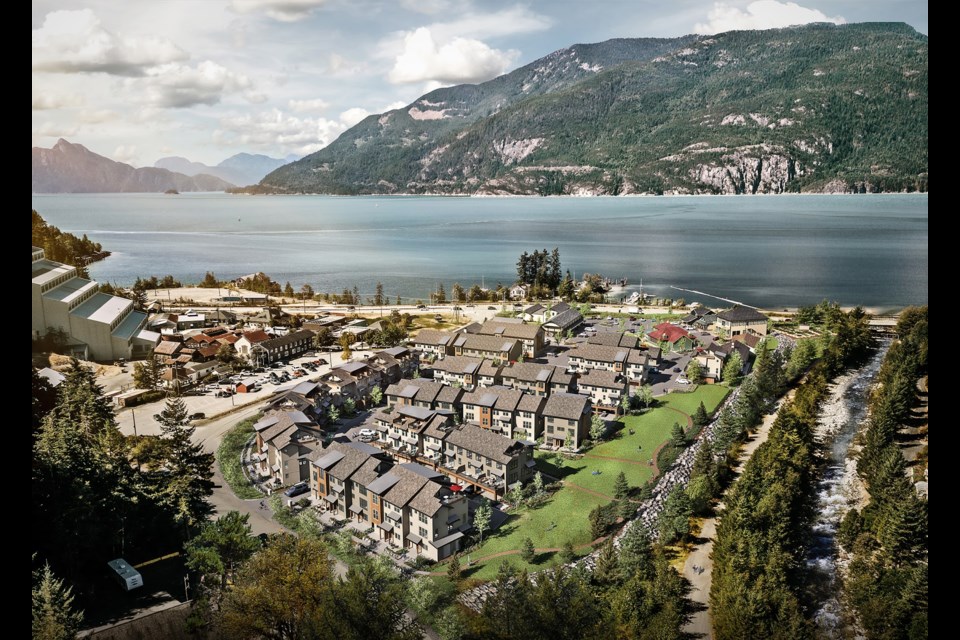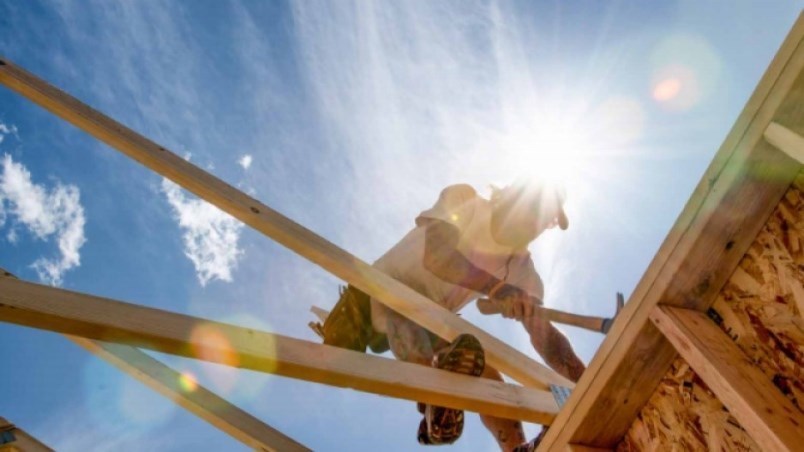 Prince George, B.C., is on pace to break 2021's record construction year, but one city councillor is concerned that new housing isn't keeping up with population growth. While total commercial and industrial building permits saw a remarkable 1,200 per cent increase in the first half of this year, to $69.2 million, compared to a year earlier, residential permits issued fell to 78, down from 238 in the first half of 2021. Permits for multi-family projects tallied just 12 this year, compared to 28 during the same period a year ago. Still, the City of Prince George is on pace to issue a record value of building permits in 2022, according to a report presented to city council on July 25. In the first six months of the year, the city issued 252 building permits worth a combined $130.66 million. That's up from 269 building permits, worth a combined $127.06 million, issued between Jan. 1 and June 30, 2021. In all of 2021, the City of Prince George issued a total of 467 building permits for projects worth a record-setting $247.6 million during the first half of 2020, the city issued 231 permits worth a combined $49.77 million.

However, the numbers left one city councillor wondering if new housing starts are happening fast enough to meet the increasing demand. "In January of this year we heard that housing prices have gone up significantly in Prince George," Coun. Garth Frizzell said. The Canadian Mortgage and Housing Corporation's quarterly report says that housing starts aren't keeping pace with population growth, Frizzell added, "and that's what is making affordability a big challenge." Earlier this month, the Northern Real Estate Board reported that the average sale price for a single-family home in Prince George had risen to $529,729 by the end of June. That was a $73,887 increase from June 2021 and a jump of $9,750 over the past three months.
_____________________________________________________________
Opinion: Demand curve means B.C. home prices will keep rising
A lack of supply and high demand will continue to drive prices higher, chartered professional accountants say, in calling for a coordinated push to build more homes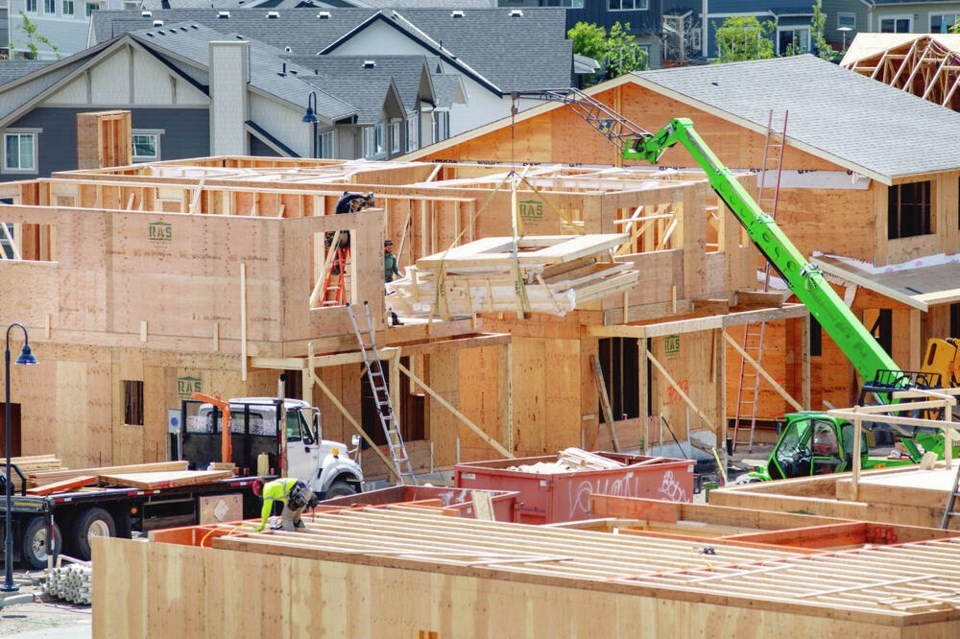 B.C. would need another 570,000 new homes over and above the 423,000 new units expected from 2022 to 2030 to balance the market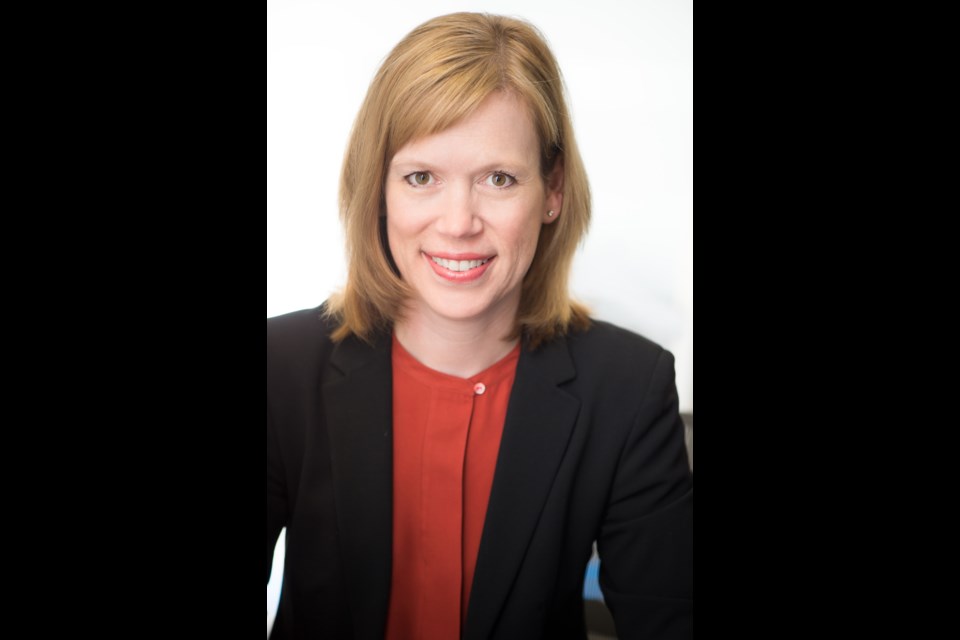 Lori Mathison, president and CEO for the Chartered Professional Accountants of British Columbia (CPABC). 

After more than a year of record-breaking real estate activity, recent data reflects a downturn in the housing market across Canada. This decline has been driven by significant interest rate increases implemented by the Bank of Canada to combat inflationary pressures, with the overnight rate rising to 2.5 per cent as of July 13 from 0.25 per cent at the start of the year. While housing prices may have cooled in recent months, they remain historically high and unaffordable for many. In June 2022, the average B.C. house sold for $947,216, up 4.1 per cent compared to June 2021 and 27.1 per cent from June 2020. The Lower Mainland had the highest prices, with the average price of a single-family home hitting $1.86 million in June 2022 compared to $1.28 million in June 2020. Longer-term, it is anticipated that any decline in housing prices will be modest in B.C., and a lack of supply and high demand will push prices up again. From 2010 to 2021, about 356,000 housing units were completed in B.C. while the province's population increased by over 800,000. Population growth slowed during the pandemic, however, it has rebounded and the federal government is looking to boost immigration past pre-pandemic levels. Canada Mortgage and Housing Corporation (CMHC) recently released a report highlighting the significant supply gap expected over the next decade. To make housing affordable in B.C. by 2030, the CMHC forecasts the average price of a home in B.C. would need to decline to $679,000 compared to the average of $947,216 in June 2022 (though significant regional discrepancies exist). To achieve this, the report finds B.C. would need another 570,000 housing units over and above the approximately 423,000 new units expected from 2022 to 2030. Without a significant increase in housing investment this will not happen, and all levels of government have a role to play from a policy perspective. To that end, CPABC recently hosted a roundtable with Minister David Eby, at that time Attorney General and Minister Responsible for Housing, and CPAs from public practice, not-for-profit, development, and finance sectors to discuss housing affordability. The discussion highlighted the need for greater coordination between levels of government and better defined processes.  In particular, the provincial government can play a leadership role in ensuring the right projects get shovels in the ground as efficiently as possible. Key recommendations focused on: •Adjusting the planning framework to encourage housing development and reduce the development timeframe;

•Providing incentives to create units that are underdeveloped such as rental, mid-sized, and subsidized units and empowering not-for-profit and other organizations to provide more affordable housing; •Coordinating government programs to ensure they are cohesive, complementary, and accessible; and •Reforming development and permitting fees to expedite developments.
_______________________________________________________________
Okotoks' under-construction shopping centre 70 per cent leased
D'Arcy Crossing will open in spring 2023 as B.C.-based developer looks to add more restaurants to 'right' tenant mix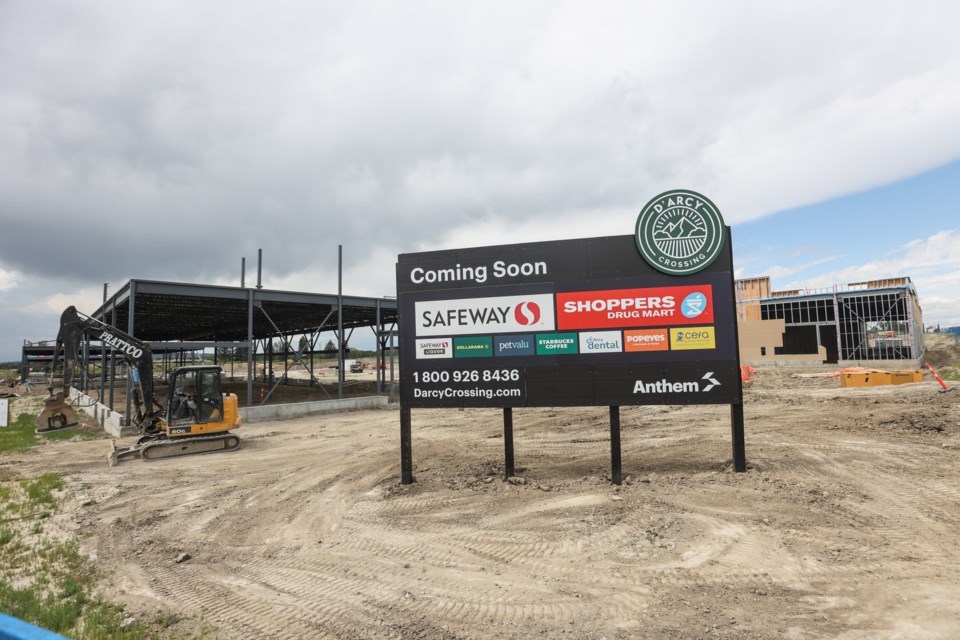 D'Arcy Crossing, which will bring 150,000 square feet of retail and office space to the north end of Okotoks, Alberta, is starting to take shape. The commercial component of the D'Arcy development, anchored by a 47,000-square-foot Safeway and a 17,000-square-foot Shoppers Drug Mart, is expected to open next spring, according to Isaac Beall, a senior director with Vancouver-based Anthem Properties. Beall said about 70 per cent of the shopping centre has already been leased and he expects it will be very close to fully leased by its April 1, 2023 scheduled opening date. In addition to the two anchor tenants, there will also be a 10,000-square-foot Dollarama, a 6,000-square-foot Safeway liquor store as well as a Pet Valu, Starbucks and Popeyes, among others.
Beall said they're focused on lease agreements with larger format restaurants, but he wasn't able to make any announcements at this time. "It will be filled out with the smaller operators that come later, food service operators, doctors, dentists, hair salons, those kinds of things," he said. After stripping and grading of the site late last year and foundations installed throughout winter, framing is now being erected for the nine buildings that will surround a central parking lot.
_____________________________________________________________
CMHC confirms government costs raise new home prices
In Vancouver, fees and charges accounts for 20 per cent of the price of a new condo apartment, new federal study says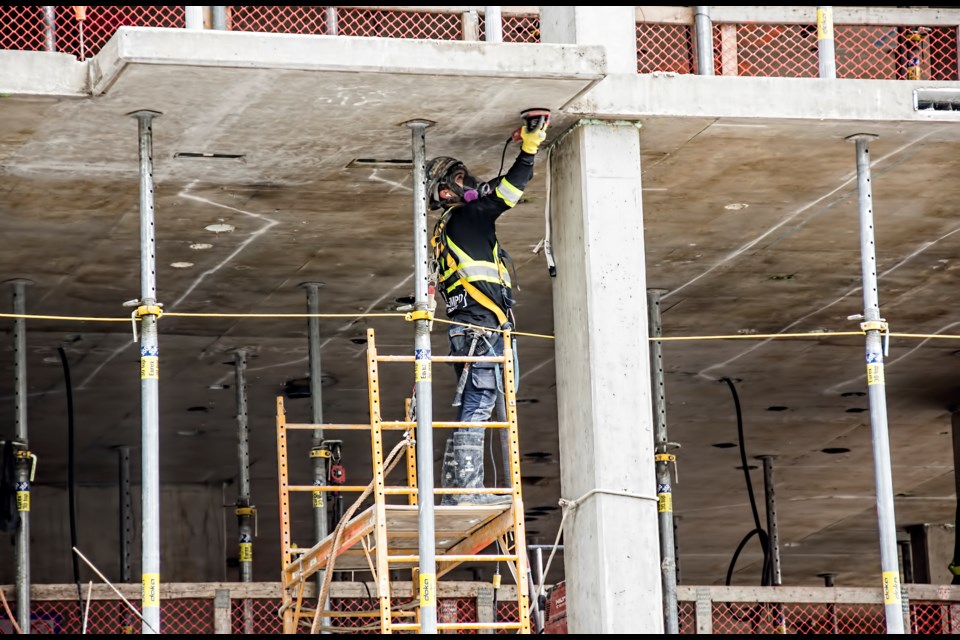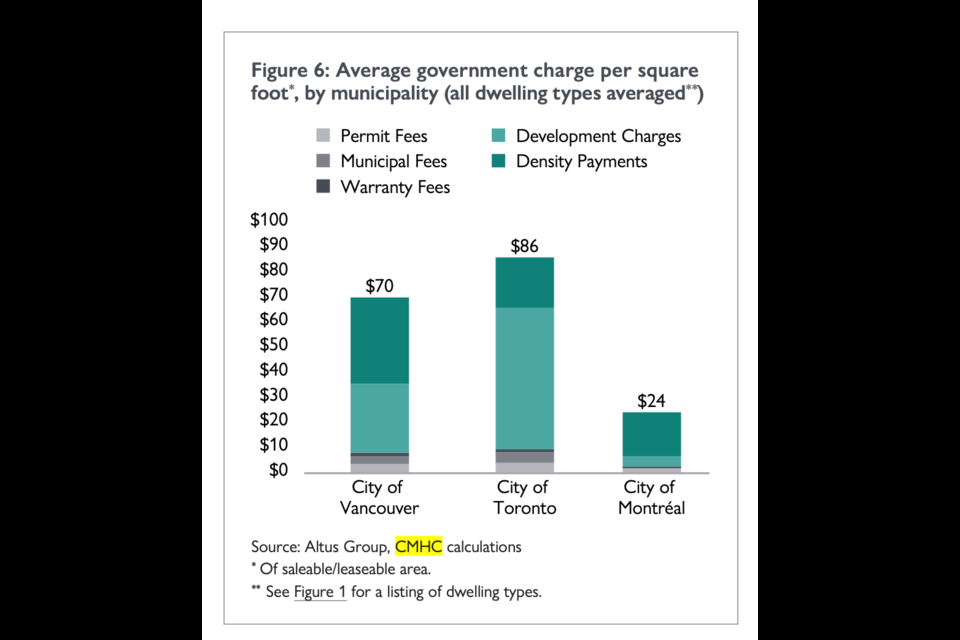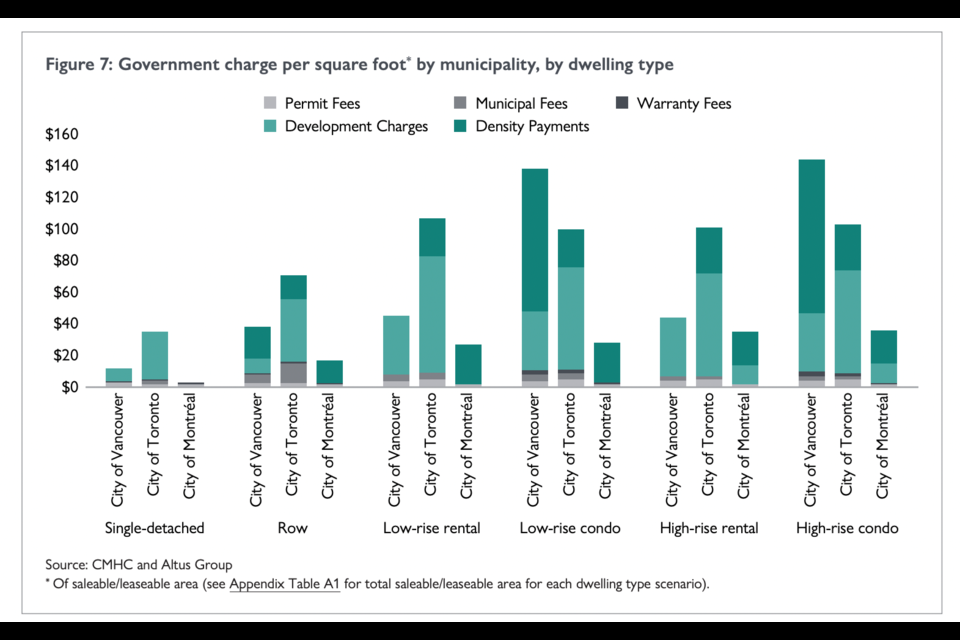 Verifying what home builders have been saying for years, a new report from Canada Mortgage and Housing Corp. (CMHC) confirms that government costs and fees add tens of thousands of dollars to the price of a new home. According to a new joint CMHC and Altus Group Housing Market Insight report, 
Government Charges on Residential Development in Canada's Largest Metropolitan Areas
, released July 5, government fees impact the cost of new home construction by as much as 24 per cent. The study examined the number and cost of government fees on six different new home development scenarios, from a single-detached house to low- and-high-rise multi-family buildings, in select municipalities in Canada's three largest metropolitan areas: Metro Vancouver, Greater Toronto Area (GTA), and Montreal. "The single-detached house tends to be the housing type subject to the lowest government fees [an average of 8.5 per cent]. This seems to run contrary to densification efforts being pursued by municipalities, which are necessary to increase housing supply within existing urban areas," CMHC noted. According to the report, the average government charge per square foot for municipalities in the GTA is $86; in Metro Vancouver, $70; and, in Montreal, $24. The City of Vancouver had the highest cost per-square-foot on low-rise and high-rise strata condo buildings of all cities studied, at $143 per square foot, owing entirely to density payments. Density payments relate to the amount of density permitted on a site and are designed to raise revenue for community amenities (such as swimming pools, parks, etc.).
_______________________________________________________
Calgary coffee chain splashes into Vancouver
Deville Coffee plans four downtown outlets in the city with its first major move outside of Alberta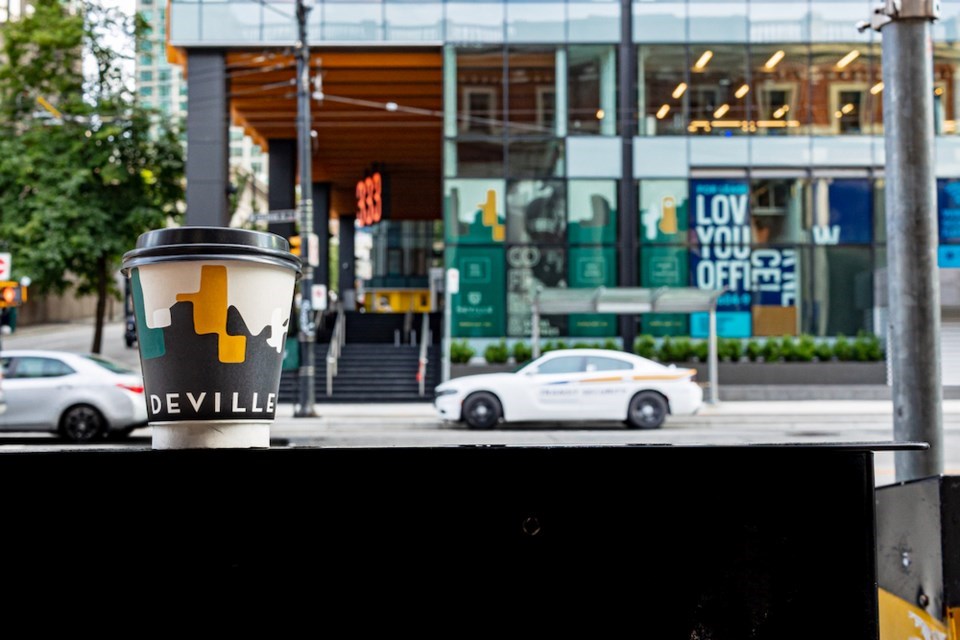 Calgary-based 
Deville Coffee
 will soon make a splashy arrival in Vancouver, marking a major expansion of the brand. Paul Brassard and Mark Nolan opened Calgary's first Deville cafe in 2008. The chain has a major presence in Calgary, with a dozen locations around the city and a thirteenth one in the works for Calgary's airport. Deville also has an outlet in Edmonton and one in Kelowna, B.C. In Vancouver, Deville has announced four outposts: 745 Thurlow (at the 745 Thurlow office building); The Post (in the former Canada Post redevelopment on West Georgia Street in the downtown); Bentall 5; and Waterfront (at 333 Seymour Street). It appears the Waterfront location will be the first to open its doors this July, though a specific date has not yet been shared on Deville's social media.
_______________________________________________________
_______________________________________________________
What the Bank of Canada's full percentage point hike means for the housing market and your mortgage
Surprise 100 basis point increase will likely put the squeeze on homeowners' budget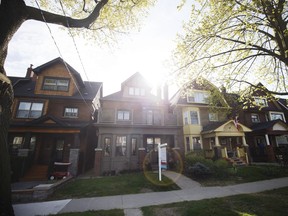 Surprise 100 basis point increase will likely put the squeeze on homeowners' budget The Bank of Canada's surprise 100-basis-point rate hike will put more pressure on Canada's cooling housing market. The Bank of Canada's surprise move to hike its policy rate by a full percentage point — with no indication it will stop there — will add to the financial squeeze faced by indebted homeowners and likely push more buyers to the sidelines of already cooling real estate sector, market watchers said Wednesday.